Wizards Of Alamar
DevLog 1.1.19 The Lost Tower
---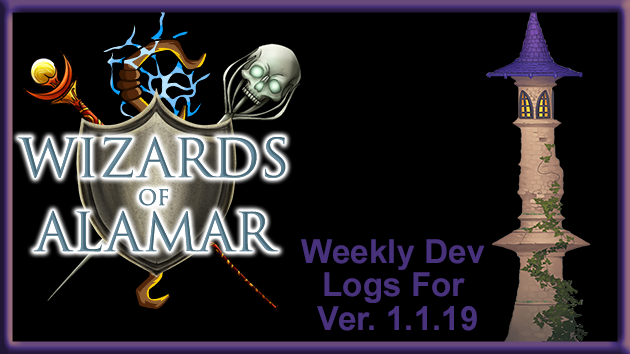 Devlog 1.1.19
-- added this patch --
added quest 14
added quest 15 to the patreon portal in the portal building (kind of early access)
added the shield shop. go upgrade your shield
the library is on the way. we added in the library after quest 10 so you can see what the interface will look like but thats all for now
the library will eventually allow you to swap out your wands, shields, and rings
The Ghost spawners no longer spawn when the game is paused -- thanks kegmaster for finding this bug
lots of art updates
-- future patches --
Working on a sound rework that will add volume controls for spells, ambient, etc
Working on a resolution scale to allow you to choose a resolution and windowed or fullscreen.
Working on a few new door puzzles to add some variety.
Working on a few new spell ideas to mix up combat a bit.
Files
wizardsofalamar-win-stable.zip
242 MB
Version 1.1.19
May 23, 2019
wizardsofalamar-linux.zip
242 MB
Version 1.1.18
May 13, 2019
wizardsofalamar-win-stable-free.zip
242 MB
Version 1.1.19
May 23, 2019