Wizards Of Alamar
Its huge!!!!!! Devlog 1.1.16
---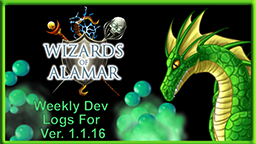 Devlog 1.1.16
-- added this patch --
-Login system! We will be picking several of our discord members over the next few weeks to receive Honorary Patreon Privileges... so join now!!! And DM xandz your email to enter. JOIN DISCORD HERE
-New main menu. Added a button to take you to our discord server. Come chat we have quite a few active players in there already.
-Patreon Stuff! When you sign up to our website and create an account, use the same email you used at Patreon. We will automatically detect that your a Patron (This may take up to a day) and open more content in game! Access to patron only areas, exclusive quests, added wands, rings and spells is just the start. JOIN PATREON HERE
-Brand new portal building. Its split into realms and sequential quests may not be in the same realm. The Darkened Forest and Underworld realm coming soon.
-- future patches --
-Working on a sound rework that will add volume controls for spells, ambient, etc
-Working on a resolution auto-scale to allow you to choose a resolution and windowed or fullscreen.
-Working on a few new door puzzles to add some variety.
-Working on a few new spell ideas to mix up combat a bit.
--NEXT UPDATE-- Shields!!! We have added in a right click to activate a shield spell. This shield will block all projectiles and you will be able to upgrade for longer spell duration.
Files
wizardsofalamar-win-stable.zip
242 MB
Version 1.1.16
May 01, 2019
wizardsofalamar-win-stable-free.zip
242 MB
Version 1.1.16
May 01, 2019